03 Aug

TOP CARGO BIKES OF 2019

Losing riding time to run unavoidable errands sucks, so quit driving and start pedaling everywhere on an electrically assisted cargo bike. The latest generation is more customizable and wieldy than ever; e-assist and modular mounting systems mean today's bakfiets and longtails are increasingly viable trade-ins for your gas-guzzling SUV. The United Parcel Service and disaster relief managers across the globe use cargo bikes to transport goods where cars can't go, and you'll love breezing past bumper-to-bumper traffic in the bike lane with a week's worth of groceries packed onto your bike. Whether you're on the school run or you're furnishing a room from Ikea, there's a cargo bike to help you portage past rush hour. Advertisement – Continue Reading Below
Cargo Bike Layouts
Domestic and international cargo bike popularity has exploded in the past decade, says Xtracycles founder and longtail cargo bike pioneer Ross Evans, yet a few basic designs dominate the segment. There are bakfiets ("box bike" in Dutch), also known as Long Johns, which position the cargo box between the rider and the front axle using a low-slung frame and a steering linkage that runs from the handlebar to the fork. The longtail design is like a tandem, but with space behind the rider for cargo rather than a second saddle. Midtails are shortened longtails; the latter two designs maneuver more like a traditional bicycle, but bakfiets tend to provide more cargo capacity.
Three Types of Cargo Bikes
surly big easy 0067 1550766348

riese and muller load 75 1542133198

tern gsd s00 0439 1537160918
To Electrify or Not?
To make sense of the recent cargo bike boom, look to e-bikes. "Electricity and cargo bikes go together like PB&J," Evans says. Schlepping hundreds of pounds on a bike is great if you're looking for a workout, but e-cargo bikes like the Tern GSD and Benno Boost E use pedal-assist electric motors with more than 50 miles of range to make cargo bikes more accessible to riders who aren't trying to break a sweat. The tech comes at a price, however. If you're running a cost-benefit analysis of the electric premium, bikes like the Yuba Spicy Curry Bosch come in electric and non-electric formats.
Accessorize to Fit Your Needs
Once you've purchased a cargo bike, you'll want the right accessories to maximize its utility. Start on the manufacturer's website: Brands like Tern and Benno sell panniers, racks, and child seats to match their cargo bikes. Alternatively, if your style is more "chuck it and go," bakfiets like the Riese & Müller Load 60 use a single spacious box that'll fit all your stuff in any manner of organization (there's still seat belts for your kids, though). The best way to figure out the logistics is getting out there and hauling, so start with one of these velo-freighters and get to portaging.
Why You Can Trust Us
Each of these bikes has been thoroughly tested by a Bicycling editor. We've used them to fetch groceries and take kids to school, riding them as often as possible to find out whether they can replace our cars for daily use. We've also interviewed the product managers who build these bikes and compared them to competitors in the market. Have a question about one of these rides or wish we'd review a bike not on this list? Let us know in the comments.
---
Rad Power Bikes RadWagon
Rad Power Bikes
RadWagon $1,499.00
PROS

Comes with lights, fenders, and a kickstand
Throttle gets you off the line more easily
CONS

Less powerful up steep hills than e-cargo bikes with mid-drive motors
A $1,500, fully loaded e-cargo bike seemed too good to be true, so we borrowed the RadWagon from Rad Power Bikes to see if it could stand up to competitors that cost thousands more. In short: it does. A 750-watt Shengyi direct-drive hub motor provides powerful pedal assist at a much quieter hum than the mid-drive motors used on most e-cargo bikes; its only disadvantage is there's not quite as much torque, but you'll only notice on steep hills. A throttle lets you ride the bike like a scooter, and we had no problems with the 7-speed Shimano Altus drivetrain or the Tektro mechanical disc brakes. Lights, fenders, and a kickstand are standard.
Despite its length, the RadWagon isn't difficult to maneuver: We thrashed it around an abandoned golf car path and didn't scrape the rear foot platforms against the ground, a good sign for low-speed handling. The bike doesn't feel as solid as the similarly sized Surly Big Easy, although it's not sketchy, either; you'll just notice the fit and finish (the kickstand's aluminum legs will dent your floors; the holes drilled in the wooden decks don't match the mounting hardware) isn't up to snuff with pricier competitors. It's a lot easier to charge $5,000 or more for an e-cargo bike when you market it as a car replacement, but the RadWagon proves you can render your car mostly obsolete for the price of an e-bike, not another car.
Xtracycle RFA Utility
An adjustable wheelbase and loads of available accessories
Price: $4,497
Price as tested: $6,797
The Xtracycle RFA Utility is designed to evolve around your changing needs. Its adjustable dropouts allow you to shorten and lengthen the wheelbase by 5.5 inches. The shorter layout, dubbed the RFA Sport, comes with a shorter rear deck. We'd have the RFA Utility with its longer rack (might as well have a longer rack, right?), but you can always change the wheelbase length in about an hour. The bike feels sturdy and stiff, and the component spec is similarly customizable, with options for motors, batteries, and accessories.
The fat 24-inch tires dampen road vibration and make you feel like you can run over almost anything, an admirable trait on a bike designed to carry hundreds of pounds of cargo. Our test bike had the Bosch Performance Line Speed motor, which takes you up to 28mph rather quickly. We found minor sticking points in the inconveniently long kickstand legs, lack of stock fenders, and minimal clearance between your heels and the seat stays. Otherwise, it's a quality platform for customization and years of use.
Tern GSD S00
A high-powered hauler with commuter-focused features
Price: $4,995
The Tern GSD S10 won Bicycling's Gear of the Year award in 2018 for its car-replacing versatility and range. The GSD S00 builds upon the original GSD's success with a Bosch Performance Line CX motor, which provides more torque and features walk-assist for easier off-the-bike maneuvering. There's also an Enviolo internally geared hub (compared to the S10's Shimano Deore groupset), which allows riders to shift gears while sitting at a stoplight. Like its predecessor, the GSD S00 holds two Bosch battery packs—buying both extends the range to a 155-mile maximum but adds $800 to the price.
---
Cero One
This maneuverable e-cargo bike turns circles around the competition.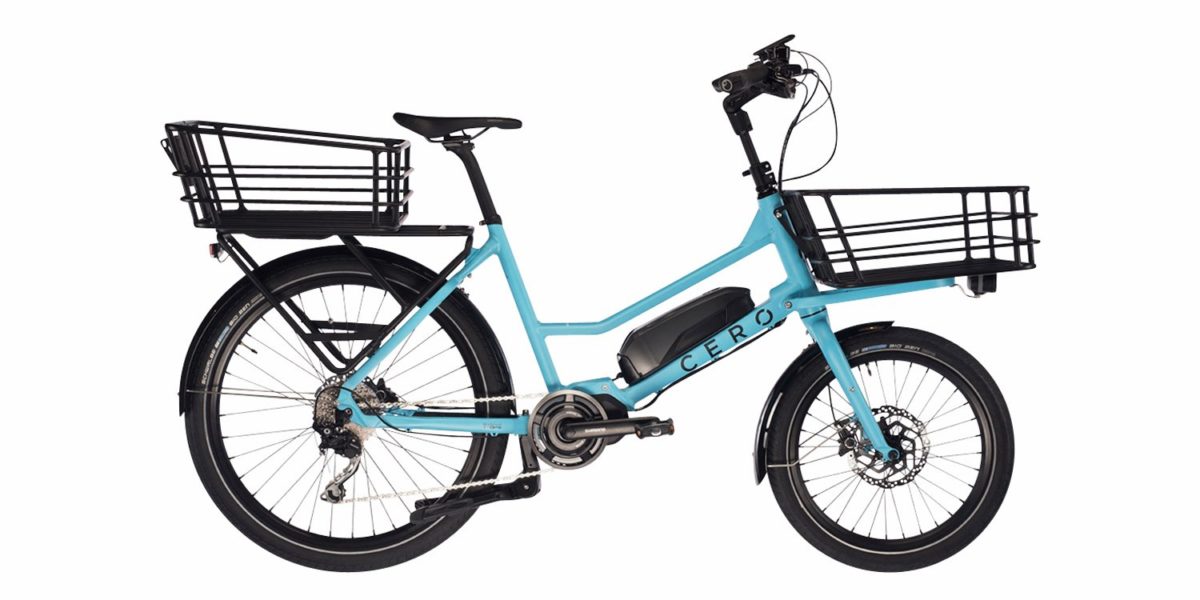 The Cero One e-cargo bike is built to carry plenty of stuff through a crowd: Its 20-inch front wheel lowers the front rack's load and produces nimble handling. The Shimano STEPS motor tops out at 20 mph, and the battery provides 93 miles of e-assist; an 80 percent charge takes just 2.5 hours (5 hours for a full charge). The rear rack fits a basket or a Yepp child seat, and the front rack works with a basket or a platform for bigger packages. After her Subaru went to automotive heaven, our tester fit a week's worth of groceries in both baskets.